Asset Homes, Guruvayur

Abode of Ethereal Bliss 
The Asset Darshan, the new project of Asset Homes at Guruvayur is coming up in the vicinity of the legendary temple facing its East Nada. The project is Asset Homes' first one in Guruvayur and has been conceived with a view to help the devotees of the deity, to stay comfortably as and when they visit the temple.
The project has been created in such a way that it is the most ideal for the pilgrim to stay within the aura of the divine icon and to remain in perfect peace of mind and calmness. Own your priceless possession at Guruvayur and remain in pure transcendental bliss.
Beatifically Furnished Living Space.
The construction and design of Asset Darshan is poetry unsurpassed. When you enter this  you will be enticed by the elegant use of space and the supreme quality of furnishings. Each apartment comes with an LED TV, Sofa Set, Dining Table with Chairs, A/C in bed room, Kitchen Hob & Chimney, Mini Fridge and other facilities. With every amenities provided, you are sure to experience the joys of domesticity at the abode of Divinity.
Invest In Good Faith
For investors of good faith, Asset Darshan makes a supreme opportunity. Guruvayur being one of the prime temples of India, draws devotees from across the country. Located on the most auspicious precinct of the Temple, the East Nada, Asset Darshan is value for money at the same time bodes well for the future as an appreciating investment.
Come, make your investment in absolute faith and reap returns in abundance!
The Divine Architecture
The apartments are designed exactly to suit the requirements of the tourists and the pilgrims who visit Guruvayur. The 1BHK apartments of sizes ranging from 550-650 sqft come with an attached kitchenette for private cooking and a common kitchen meant for all the inmates. Auspiciously situated close to the East Nada of Guruvayur Temple, Asset Darshan provides a gracefully comfortable stay for all the devotees of good faith.
Come, own your share of beatific bounty!
Broadband internet connection

Digital cable TV connection through STB

Intercom Facility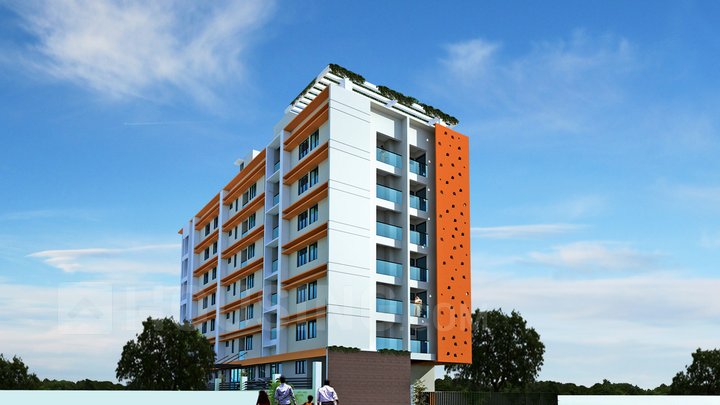 LED TV in Drawing Room

A/C in Bedroom

4 Chair Dining Set

Base Kitchen Cabinet

Wardrobe in Bedroom

Queen Size Cot and Mattress

Sofa set

Mini Fridge

Electrical fittings

Curtains

Kitchen Hob & Chimney

Geyser in Toilet
Metal strip reinforcement on all joints to avoid cracks

Sharp edges avoided on all fabrications to provide safety, especially for children

Rubber fenders on parking area pillars to avoid damage to vehicles
Grand Entrance Lobby

Solar lit yard

Reading Room

Common Dining Room and Kitchen

Passenger Lift

Servant's Toilet and Care Taker's Room